CLEVELAND MUNICIPAL COURT: THE FIRST ONE HUNDRED YEARS
by Mary Ann Koster
Table of Contents / Download
Cleveland Municipal Court celebrated its 100th anniversary on January 2, 2012. To mark this occasion and to note our small footprints in the clay beneath our city, we present the first installment of the history of our court. The authors make no claims as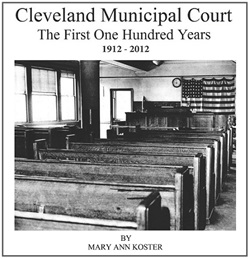 to writing the definitive story; source documents are few, and far from exhaustive. The topic of municipal courts has evidently inspired few authors, a condition that perhaps will change with the passage of another hundred years. Who knows?

As an employee of the court for the past 44 years, this has been the single most important project with which I have been associated. Researching, compiling and writing this account has been both rewarding and enlightening, and it proved just how much the municipal court is the "court of the people."

My husband and I hope that the reader will find this chronicle as interesting and informative as we found the challenge of the research. We had never undertaken a project such as this. There has been much written about the supreme courts, appeals courts and common pleas courts, but precious little has been written about municipal courts. It has taken three and a half years for this story to be compiled. Thank goodness for the archives of The Plain Dealer, The News and The Cleveland Press for their coverage of our court, especially in the early days. In those earlier years the court was less than diligent at keeping historical records. What records that were kept were irreparably damaged by a flood in the basement of City Hall. The destruction was only discovered during the move from that building to the Justice Center in 1977. To say the least, the research for this book project was difficult and time consuming. We hope that someone will take up the mantle after this. The stories, good and bad, should be preserved for posterity.

I have enjoyed my 4 ½ decade career with this court, and the many wonderful people that have crossed my path. It has been an honor and a privilege to be a public servant. I had no idea that this was the course laid out for me when I started. We offer our work as a salute to the many men and women who have dedicated their work lives to the fair and forthright adjudication of legal matters before this court throughout this past century, be they elected or appointed. We fervently hope all future employees of this court will read with interest about what has gone before them and pledge their work lives to learn from the mistakes of the past, and commit themselves to honest and steadfast public service.

Mary Ann Koster